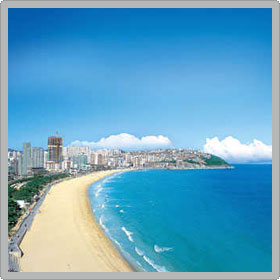 BREATHTAKING HAEUNDAE

Swoosh! Waves invade the sands of the beach, refreshing completely your fatigued soul, washing away all your troubles. The ocean embraces you. Seagulls fly over as your toes are tickled by the sands' soft touch all along the golden shore. This is Haeundae, a beach that will fill your heart with a longing that you could stay here forever.
GWANGALLI BEACH - CULTURE AND HISTORY

The key words for Gwangalli are youth, passion and luxury. Even the silence of the dawn shines at the sound of the waves lapping the sands and even the quiet seashore of the late afternoon awakens you to the value of life. Gwangalli surprises you because things transcend reality here. In Gwangalli, you are pleasantly surprised by small acts of compassion because you did not expect them. These are the attractions of Gwangalli and the reasons why you have to visit Gwangalli.
NAMPODONG, TRADITIONAL HEART OF THE CITY

Many refugees from other parts of the country settled in Busan during the Korean War. Busan was designated as the country's temporary capital city and Nampo-dong was at its center. Since then, people and cultures from other parts of the country have mingled here and this mingling has resulted in a harmonious diversity, among people of different backgrounds. Nostalgic memories of the old days still live on in Nampo-dong. Harmony also exists here among the ultramodern urban facilities, the land and the ocean. Nampo-dong is full of human stories.
EXQUISITE TAEJONGDAE

Close your eyes and picture the waves, wind and feel the smell the aroma of the ocean coming from the white spray. Then open your eyes and you will be enraptured by the exquisite scenery of Taejongdae.
DONGNAE, NATURE AND NOBILITY

In the peaceful landscape of Dongnae, traces of times past are intact. In Dongnae, the traditional and the graceful coexist. Abundant peace of mind and joyful love of the arts live on there.
SONGJEONG AND GIJANG FOR MORNING CALM

Extending from the horizon is the boundless expanse of sea and the sky. This is where romantic feelings or peace of mind can be felt. Songjeong, with the leisurely atmosphere of a southern tropical land, and Gijang, always full of warm emotion, invite you to the world of their charms.
GANGSEO, BUSAN'S NEW FRONTIER

When darkness permeates the ocean mist, with the silence broken only by the sound of the waves breaking on the shore, a white gleam of light rising from the water's edge awaits the burning glow of the morning sun. The promise of a new dawn brings eternal hope and the sea and rivershores of Busan at Gangseo are witnessing a new age of prosperity.